Plant and machinery in Verona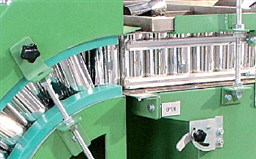 The
engineering sector
for plant and machinery, as can be seen from the import – export figures over recent years, is a strategic one for Verona's economy.
What particularly stands out is the variety of specialisations: there are excellent businesses operating in
machinery for the food and wine industries
, for
stone
working, for
furniture
, for
shoes and fashion
, for the
printing and paper
sector, and for
electronic equipment
, machine tools and small metal components and articles.
Special mention should also be made of the
thermomechanical sector
, where local concerns have specialised in heating systems, manufacturing boilers, radiators and burners, as well as in
cooling systems
, making refrigerators, convectors and air conditioning units. Success in this field in the Verona area has seen the rise of leading companies, producing high quality goods, where the by-words are technological innovation, diversification of production and integration within the sector to permit synergies to be established between all production stages, including through the use of sub-contractors.
The VenetoClima district has been set up to support the whole sector mainly with the aim to establish a service centre for member businesses and enable them to raise their profiles and work together.
The whole of the Verona area's plant and machinery industry is very well structured and integrated, with the result that it is in a position to favour the development of other key sectors such as those of furniture, marble and agri-foodstuffs which have also made significant inroads into foreign markets, including those outside the European area.
In this website of the Verona Chamber of Commerce you can find a
list of companies
of the Verona's plant and machinery's industry and their contacts.